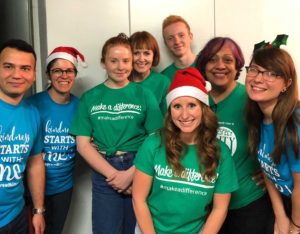 After moving to Leuven I was looking for an organization to volunteer. I didn't speak any Dutch back then so this was a bit tricky. Then I got to know about Serve the City and decided to try. 
My first project with them was absolutely magical – it was Christmas dinner back in 2019. I was so inspired by the organization, volunteers and the welcoming and kind atmosphere. 
Unfortunately, my next live project with them was a while due to Covid. In the meantime, I was helping virtually with social media and posts (hope you follow us on Instagram or Facebook? 😉).
Once the restrictions were lowered and new projects came in I was so happy to join again. This time I wanted to be more involved and thus joined the project leaders team. And so happy I did! It's really precious to be surrounded by people with the same values and work on projects together.
I'm from Ukraine myself, so when the war started Serve the City team was very supportive. We also worked on a fundraising project for Ukraine and I'm endlessly thankful for such an opportunity.
Volunteering with Serve The City is always very fun. Looking forward to organizing many cool volunteering projects together!
– Nata, Project Leader, Serve the City