Serve The City Leuven would like to invite you to our second annual Community Meal to celebrate another successful year of serving our community here in Leuven.
It will be a time to show kindness to the volunteering and student communities who are warmly invited to join, so that they can have the opportunity to learn more about volunteering with us and the special vision STC Leuven has in this respect.
Join us to hear the impact volunteering has had on our community here in Leuven and consider a financial contribution to help us with the exciting projects we have planned for the coming year.
PROGRAM SUNDAY 17 NOVEMBER
09u30 welcome @Fabota for volunteers helping with cooking
12u30 Welcome @Pangaea, info & preps
13u00 Welcome guests
13u30 Community Lunch
15u30 Clean up
Interested? Then don't wait too long, the number of seats are limited! Just sign up in the form below.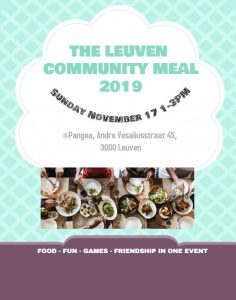 Looking forward to seeing you there!
STC Leuven community lunch team
---
Registration